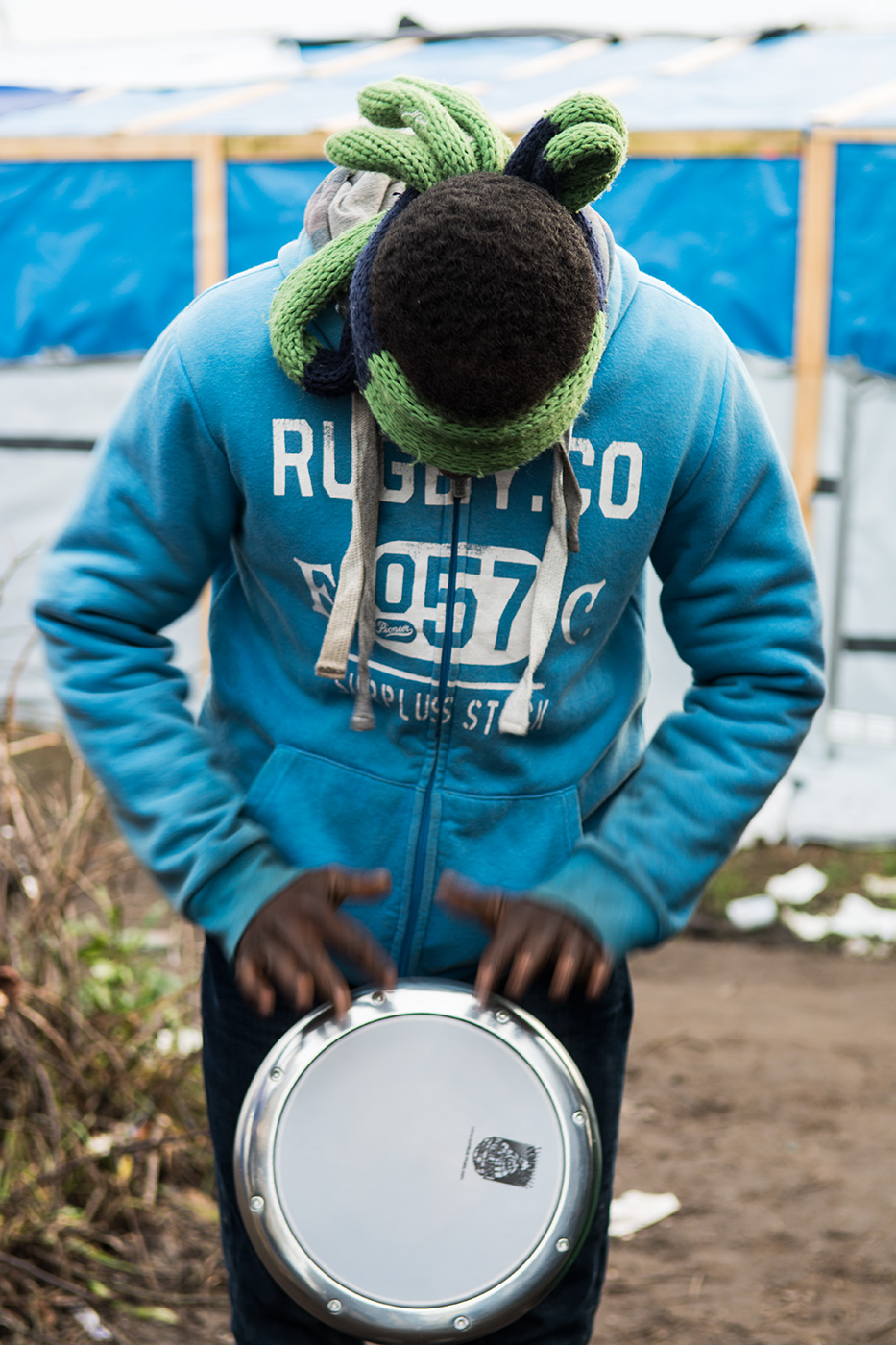 There have been refugee camps in the Calais area of Northern France for about twenty years, but none as large or as visible as the informal settlement known as the 'Jungle', close to the Eurotunnel and Eurostar terminal that connects the UK to continental Europe. At its peak in 2016, the 'Jungle' was home to over 6,000 displaced people from Syria, Afghanistan, Kuwait, Iraq, Iran, Pakistan, Ethiopia, Sudan, Eritrea, and elsewhere. Another 2,000 refugees - mostly Iraqi and Iranian Kurds - lived in the Grande-Synthe camp, a 'tent city' with no electricity, about half an hour's drive up the coast in Dunkirk.
Over a period of six months I made several trips to Calais with The Calais Sessions, the first of which was on a bleak, cold, and wet weekend, just before Christmas in 2015. A group of musicians and sound engineers travelled to the camp with a variety of musical instruments, recording equipment, and a generator. A tarpaulin-covered wooden classroom became a temporary studio - an open stage for musicians living in the 'Jungle' to join with other players, where their voices could be heard, their stories told and their songs recorded.
The conditions in the 'Jungle' and at the Grande-Synthe camp were as squalid as I had imagined. Thick mud clogged the pathways between the flimsy tents and hastily-built wooden shacks. Sanitation was poor, the environment volatile and the situation stressful. We heard heart-rending stories from people who had endured long and dangerous journeys, who had lost their homes and most of their belongings. Yet we also encountered great strength, resilience, friendship, and hope. We experienced endlessly warm hospitality, discovered wonderful musical talent, and witnessed the powerful sense of society in the camp. Along the water-logged central track through the 'Jungle' a string of bustling cafés and restaurants run by refugees offered the comfort of home-cooked food, sweet tea, and a space to gather with friends, to smoke, play cards, or watch music videos on TV. There were places of worship, convenience stores, a library, a barber, and classrooms.
By my final visit to Calais in Spring 2016, large areas of the 'Jungle' had been bulldozed. All that remained were the Ethiopian Orthodox Church and a couple of classrooms. The 'Jungle' camp was completely demolished in October 2016. Although the French authorities offered some accommodation in asylum centres elsewhere in France, many refugees, including minors, vanished under the radar at this point. Some headed to Paris to take their chances there. Some made it to the UK and are dealing with the asylum process here. Yet others are still camping out in the woods near Calais and Dunkirk.
The music recorded during The Calais Sessions was released as an album in July 2016. You can buy the album via The Calais Sessions website, or from Bandcamp.
The exhibition Sounds Unseen was commissioned by St. Ann's Warehouse in New York City in 2017, to inaugurate their new studio space.  Sounds Unseen was also presented at the Galway International Arts Festival in July 2018.