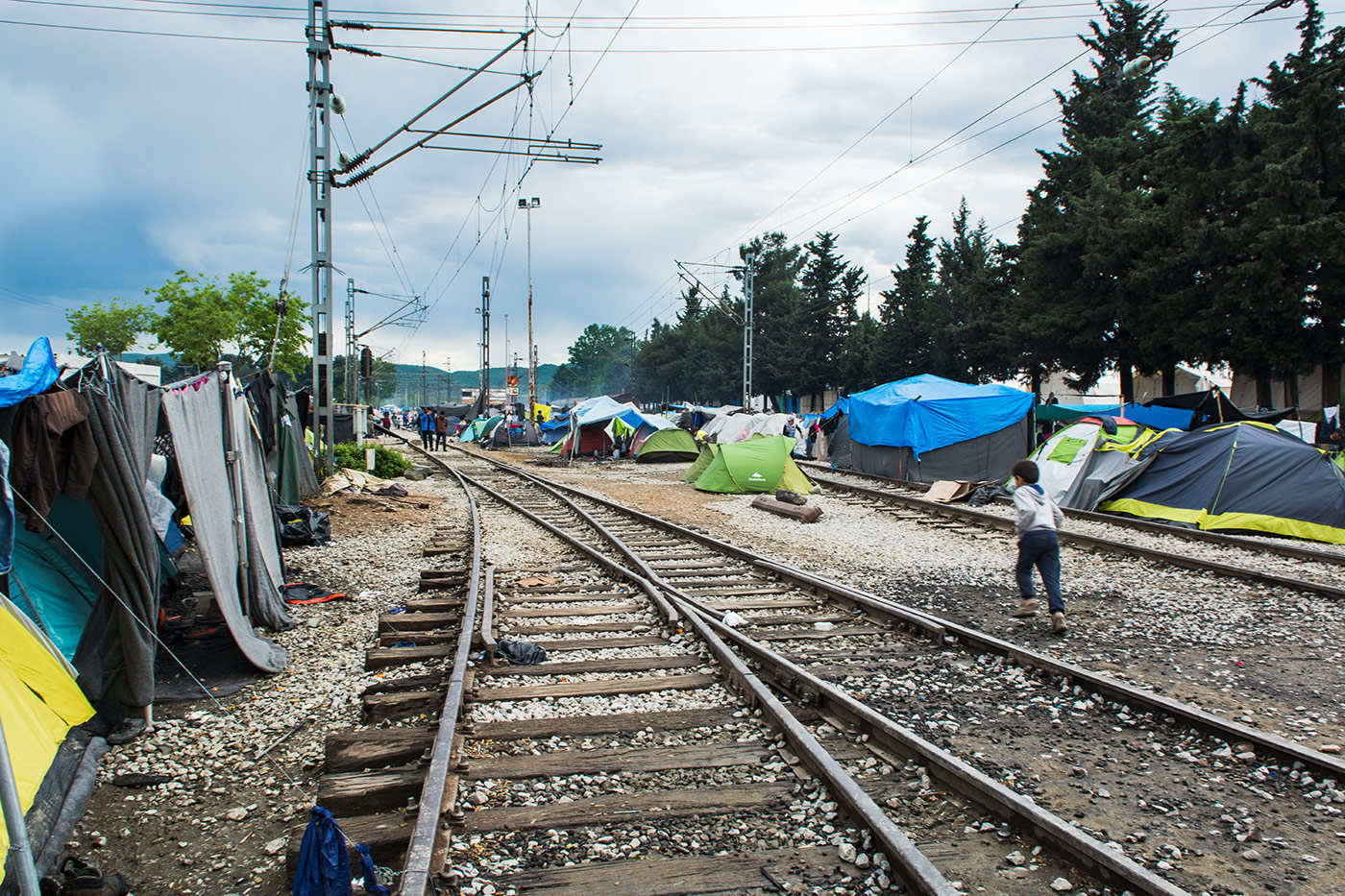 In January 2017 articles appeared in the media about refugees struggling to survive in sub-zero temperatures in Belgrade, Serbia. Around 1,000 young men from Afghanistan and Pakistan were living rough in derelict warehouses behind the grand façade of Belgrade's central railway station. Conditions were bleak on this stretch of wasteland, overlooked by a half-finished luxury development on the riverfront. With no sanitation, the ground littered with rubble, broken glass, wires, and rusting metal, and only toxic rubbish available to burn for heat and cooking, the dilapidated buildings offered little protection from the bitter Serbian winter. Occupants of the makeshift camp were evicted in May 2017.
The informal refugee camp in Idomeni, a village in Northern Greece close to the border with the Former Yugoslav Republic of Macedonia (FYROM), extended across a vast area of open land around the railway station and the recently erected border fence. Flimsy tents hugged the train tracks and lined the platforms of the deserted railway hangar. The fields flooded when it rained, clogging the camp with thick mud. When FYROM officially closed its border with Greece in March 2016, it was reported that there were up to 14,000 displaced men, women, and children from across the Middle East and Africa stranded in the Idomeni settlement. It was the largest refugee camp in Europe until Greek authorities evacuated it in May 2016.
I travelled to Northern Greece in April 2016 and to Serbia in February 2017 with the arts-led NGO Clowns Without Borders UK, to document their work with children and communities living in crisis. For children in precarious environments, the opportunity to laugh and play is a welcome break from the harsh reality they face each day. It restores their rights simply to be children. For adults too, living in adverse situations, it is a precious thing to witness their sons and daughters smiling and having fun.
Displaced Connections was presented by the 12 Star Gallery, Europe House, in London in 2018.