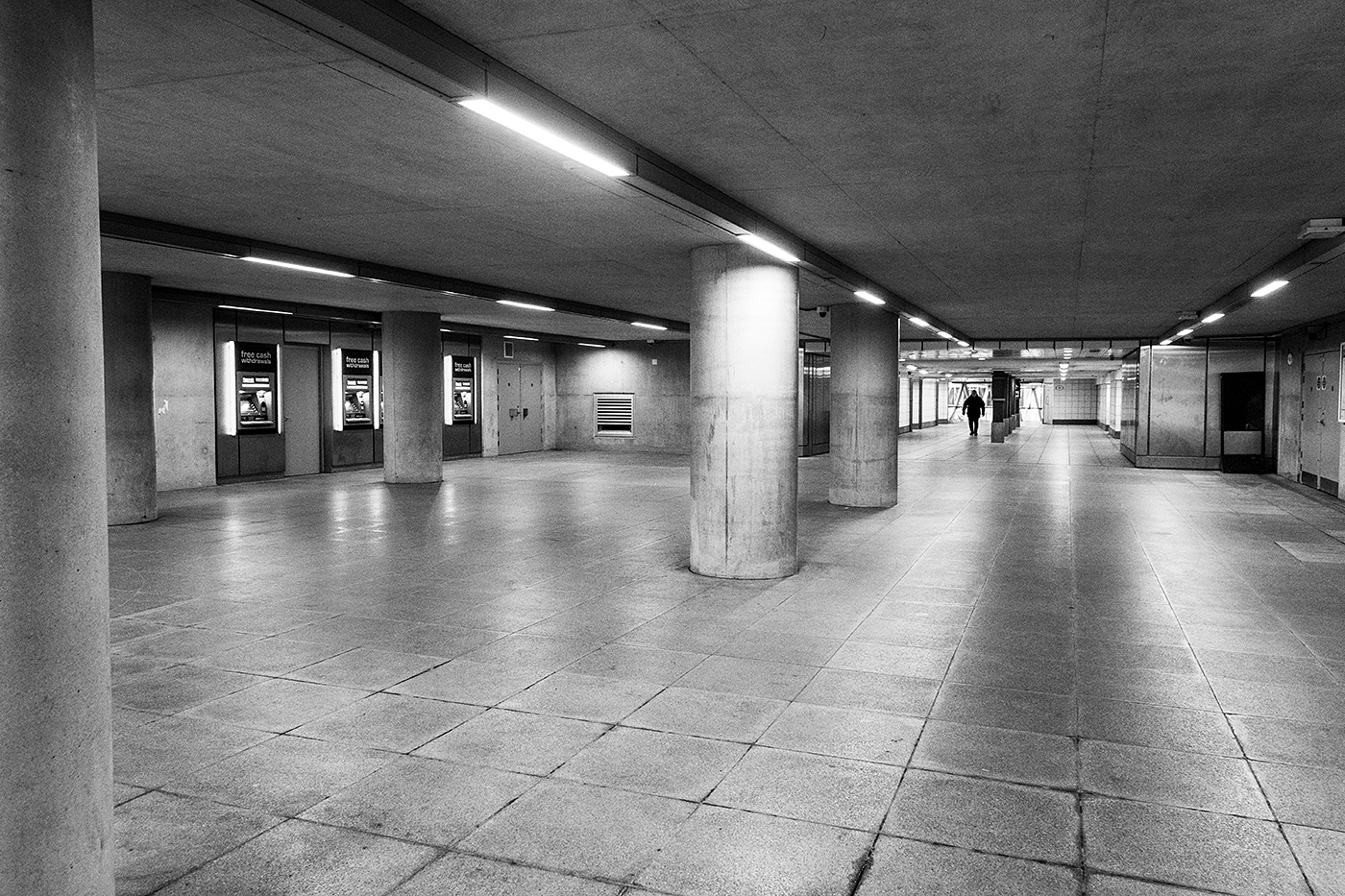 Thursday 19 March 2020 - four days before official lockdown in the UK. As the gravity of the COVID-19 pandemic and its implications began to hit home, I observed my own responses in quiet solitude; from intense activity to overwhelming fatigue. From information overload to a desire to withdraw. And from calm rationality to anxiety and fear. 
I needed to clear my head, to move away from the computer screen and the constant drip-feed of coronavirus-related news. So I grabbed my camera and went for a walk around the neighbourhood. Having the camera in my hands grounds me, and takes my mind off other concerns. The air was still, and the sky flat, as if even the weather had retreated into isolation. A light haze smudged the London skyline. 
This was the first of many solitary walks I took around SE1 during confinement. I approached these strolls as a kind of visual meditation. They became the barometer for my own state of mind, and the photographs I took helped me process the days that warped and drifted.
I looked at my neighbourhood with fresh eyes, reflecting on its history, its strategic geography, and industrial heritage. I wandered these depopulated, anxious streets, past shuttered shopfronts and isolated figures. I took in details that I'd previously overlooked, watched people as they navigated the restrictions of lockdown, observed the melancholy that descended, accustomed myself to feelings of loneliness and isolation, and learnt to accept the low-level anxiety that affected my sleep and my concentration.
My walks radiated out in different directions from Borough. They extended south to the desolate shopping centre at Elephant and Castle (destined to have been demolished over the summer, but given a short reprieve because of lockdown), and north to London Bridge - normally bustling and crowded, but eerily deserted at the height of the pandemic. I wandered from gentrified Bermondsey Street to the area's more neglected corners. I returned frequently to the Thames. Some days the river was perfectly still, offering mirror-like reflections, and at other times the murky waters swirled restlessly.
Recurring themes emerged as the series of images grew over the weeks of lockdown - boundaries, edges, shadows, fragility, solitude, connection - themes that are often present in my work. And I understood that these images were as much a reflection of my own emotional state, of my own vulnerability, as they were an exploration of the impact of COVID-19 on our interactions, our communities, our way of life.